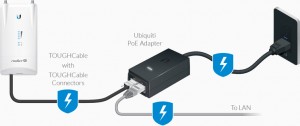 1. Please fill out our No-Obligation Sign-up form
2. We will email/call to confirm that your location qualifies for our service
3. We can possibly setup an installation date
4. When our installers arrive, they will review the simple installation process
5. We will install a radio at your address (typically on your roof – see diagram) and run an Ethernet cable from the radio into your premises to your network or WiFi router.
6. Michwave will test your radio connection to ensure your connection is what you ordered.